Pure Water™ premium water distillers allow dentists to take control of their own supply of distilled water so they can ensure patient safety and protect their expensive dental equipment. Distilled water is water that has been boiled, sterilized and purified. Distilled water is an important key to preventing bacteria and biofilm build up in your water lines so you can provide a safe water supply for your patients. Pure distilled water also allows for optimum operation, reduced maintenance and increased lifespan for your autoclaves.
Order Online at our new website: www.DentalPurity.com
To learn more, download our PDF.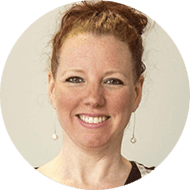 Our Products
Overview
DP850 Premium Water Distiller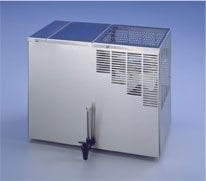 The DP850 is a heavy-duty countertop water distiller that automatically produces plenty of distilled water for small to large dental offices. The DP850 can be operated manually or automatically.
Automatic operation
Produces plenty of distilled water for small to large dental offices
Easy maintenance
Perfect for all sizes of dental offices
Technical
DP850 Water Distiller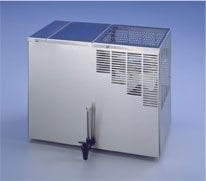 Item #:   42999DP
Width:   21" (53 cm)
Depth:   18" (46 cm)
Height:  16.5" (42 cm)
Height (w/floor stand): 34.5″ (88 cm)
Current Draw (120 v):  9 amps
Current Draw (240 v): 4.5 amps
Total Wattage:  1,100 watts
Max. Distilling Capacity: 7 gallons (26.5 liters) per day
Storage Capacity: approx. 4.5 gallons
Source Water: Recommended softened source water.
Overview
DP360 Premium Water Distiller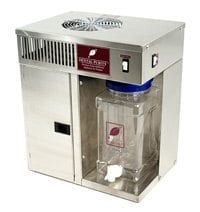 The DP360 Premium Water Distiller is perfect for smaller dental offices. Just plug the DP360 in and it's ready to go. The DP360 is as
easy to operate as a coffee maker.
Simply fill the boiling tank with tap water, turn the machine on and it will make about 3 liters of distilled water at a time. The DP360 is made in the USA to last a lifetime. The DP360 is constructed with stainless steel and only the highest quality components. The DP360 requires very little maintenance.
Manual operation (operates much like a coffee maker)
No installation required
Low maintenance
Perfect for small dental offices
Technical
DP360 Premium Water Distiller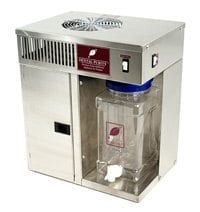 Item #:   45998DP
Width:   13.75" (35 cm)
Depth:   9.875" (25 cm)
Height (120 v):  15.75" (40 cm)
Height (240 v):  16.5" (42 cm)
Shipping Weight: 27 lbs. (12.3 kg)
Machine Weight: 24 lbs. (11 kg)
Current Draw (120 v):  6.9 amps
Current Draw (240 v):  3.5 amps
Total Wattage:  800 watts