In this section you can download our product manuals.
The Mini Clas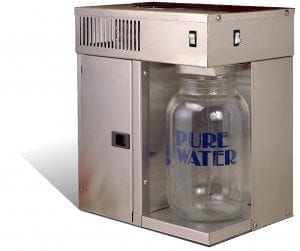 sic CT is a counter top distiller designed to fit a family of 1 or 2 and may be used by some businesses. The Mini-Classic CT makes ¾ of a gallon every 3.5 hours. The Mini Classic CT does not require installation.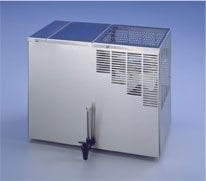 The Midi Classic is an automatic family sized machine with a production of one gallon every 3 hours. It has a built-in 5 gallon stainless steel storage tank. You can buy an optional stainless steel stand and demand pump.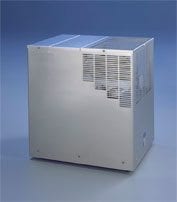 The Mega Classic is our top-of-the-line water distiller. The Mega-Classic is a fully automatic machine that produces one gallon of distilled water every 2 hours. It has a ten gallon storage tank, a built-in pump and an automatic drain. Install this machine in a remote location and run a line to multiple faucets and ice makers in the house. You can purchase a stainless steel stand.
Other Distiller Manuals, wiring diagrams and ladder diagrams (when available):
Ultima Classic (2013): Ultima Classic Manual
Mega 25 (2010):  Mega 25 Manual   Mega 25 Wiring diagram
Steampure (2010):  Steampure Manual   Steampure Wiring diagram
Liberty Classic (2006):  Liberty Classic Manual   Liberty Classic Wiring diagram
Commercial C-630 (2001):  Call for more information
Mini Classic II (2001):  Mini Classic II Manual   Mini Classic II Wiring diagram
Fountain Classic (2000): Fountain Classic Manual   Fountain Classic Wiring diagram
WATT'R TWIN (1999): WATT'R TWIN Manual   WATT'R TWIN Wiring diagram
E-Still (1999): E-Still Manual
Mini Classic I (1998):  Mini Classic I Manual   Mini Classic I Wiring diagram
Integrate (1997): Integrate Manual   Integrate Wiring diagram   

Ultima 5555 (1995): Ultima 5555 Manual Pt. 1   Ultima 5555 Manual Pt. 2
Ultima 888 (1995): Ultima 888 Manual   Ultima 888 Wiring diagram
Aqua D 2000/2000s (1992): Aqua D 2000/2000s Manual   Aqua D 2000/2000s Wiring diagram
Midi D ECP (1992):  Midi D ECP Manual   Midi D ECP Wiring diagram
Aqua D 2000s (1991): Aqua D 2000s Manual   Aqua D 2000s Wiring diagram  Aqua D exploded diagram
Aqua D 2000 (1991): Aqua D 2000 Manual   Aqua D 2000 Wiring diagram Aqua D exploded diagram
Midi D Auto (1991): Midi D Auto Manual Pt.1   Midi D Auto Manual Pt.2   Midi D Auto Wiring diagram
Midi D System (1990): Midi D System Manual   Midi D System Single Microswitch Wiring diagram   Midi D System Double Microswitch Wiring diagram
Demo Distiller (1990): Demo Distiller Manual   Demo Distiller Wiring diagram
Commercial C-520 (1989): Call for more information
Commercial C-60/75 (1988): Call for more information
A-12 (1988): A-12 Manual   A-12 Wiring diagram
Aqua D Plus (1987): Aqua D Plus Manual   Aqua D Plus Wiring diagram
MD-4 (1987): Aqua Clean MD-4 Manual   Aqua Clean MD-4 Wiring diagram
C-50 (1986): Call for more information
Aqua D Mark II (1985):  Aqua D Mark II Manual   Aqua D Mark II Wiring diagram
Peanut (1985):  Aqua Clean Peanut Manual and Wiring diagram
Aqua Still D (1981): Aqua Still D Manual   Aqua Still D Wiring diagram
Midi Still-Midi Still D (1981): Midi Still-Midi Still D Manual   Midi Still-Midi Still D Wiring diagram
Aqua Clean 5 (1980):  Aqua Clean 5 Manual Pt. 1   Aqua Clean 5 Manual Pt. 2  Aqua Clean 5 Wiring diagram
Clean Water Machine (1980):  Clean Water Machine Manual   Clean Water Machine Wiring diagram
Survival Still (1980): Survival Still Manual
Midi SS-5D: SS-5D Manual Pt. 1 SS-5D Manual Pt. 2  SS-5D Wiring diagram
Midi SS-5: SS-5 Manual   SS-5 Wiring diagram
Midi SS-4D: SS-4D Manual   SS-4D Wiring diagram
Midi SS-4: SS-4 Manual   SS-4 Wiring diagram
Midi PWS: PWS Manual   PWS Wiring diagram
Midi A-1: A-1  Manual   A-1 Wiring diagram
Aqua M-6D: M-6D Manual Pt. 1 M-6D Manual Pt. 2   M-6D Wiring diagram
Aqua M-6: M-6 Manual   M-6 Wiring diagram
Aqua M-5D: M-5D Manual Pt. 1  M-5D Manual Pt. 2   M-5D Wiring diagram
Aqua M-5: M-5 Manual   M-5 Wiring diagram
Aqua C-1 (1974): C-1 Manual  C-1 Wiring diagram
Mini Aqua (1974): Mini Aqua Manual
Quench (1971): Quench Manual
Aqua Fountain (1970): Aqua Fountain Manual  Aqua Fountain Wiring Diagram