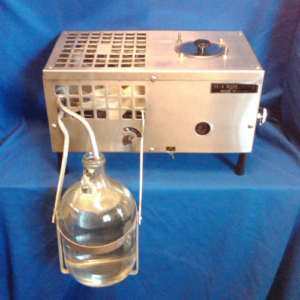 In order to protect the health of our employees during COVID-19, we temporarily closed our Service Center. The Service Center is now open for business, but lead times on repairs may be longer than normal. Please allow 2-4 weeks for repair. Thank you for your patience!
If you're interested in a replacement distiller, please contact your local distributor or one of our water experts at 402-467-9300.
Pure Water Distillers are built to last, but even the best machines need to be repaired once in a while. If your water distiller needs to be repaired, you can feel confident that the very people who made your system can also diagnose and fix it. We fully support our customers, even if you are lucky enough to have one of our really old distillers! We are here to help you!
Send your Machine in for Repair.
Pure Water's Repair Center offers fast turnaround time and low-cost out‑of‑warranty repair prices, as well as great in‑warranty service. Pure Water repair work includes…
an estimate prior to doing any work on your machine,
a full inspection of all key components,
repair or replacement of all parts necessary to ensure your product meets factory specifications (with your approval),
boiling tank cleaning,
standard machine cleaning (deluxe cleaning is optional),
new packaging materials (if needed),
a new owners manual (if requested),
A 30-day warranty on service performed (plus a warranty on parts)
Steps to send a machine in for repair.
STEP 1. Before you send a machine in for repair, please complete this form and include with the shipment.

STEP 2. Carefully package your machine. You can send your machine to us via any major carrier. We have had the best results with FedEx, because they seem to take better care of packages. We suggest that you insure your shipment for the replacement value.
STEP 3. Send your machine to us at:
Pure & Secure Repair Center
4511 NW 42nd Street
Lincoln, NE 68524
Once we inspect your distiller and do an estimate for repairs needed, we will contact you with the quote. We will only work on your distiller if/when we get your approval to do so.
If you have questions, please give us a call at 800-875-5915, ext 110. Thank you.
Repair Center Facts
Pure Water Repair Center services Pure Water Manufactured Distillers only.
Typical repairs require 7–10 business days plus shipping (depending on workload and part availability).
All Repair Technicians are factory certified.
Each one of our service technicians has over 10 years of technical experience.
Every repaired system goes through a thorough quality inspection before being returned.
International Support
Most often it doesn't make financial sense to send a machine into our service center from international locations, so here's how we can support you…
Unlimited phone support.
Unlimited email support.
Skype support so you can show us any problems.
Parts and filter orders will be expedited.