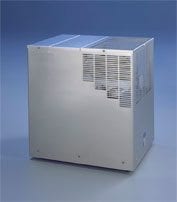 Pure Water Distillers have been manufactured in Lincoln, Nebraska since the company's founding as Pure Water Society back in 1968. Since that time our company and products have went through many changes but we have always sold our distillers through a network of authorized distributors. We believe this is the most beneficial way for our customers to purchase our equipment so they have a local representative of the Pure Water Brand to serve them throughout the life of their distiller.
Our philosophy is that our customers are purchasing a product of the highest quality that should be paired with the highest-quality customer service.
Our distributors are people just like our customers. They operate their Pure Water business in their local communities to improve the quality of people's lives through the quality of their water. Our focus has always been to provide courteous and outstanding customer service and as representatives of our company we hold our distributors to this standard as well.
If you are interested in experiencing all the benefits a Pure Water Distiller has to offer we hope that you will consider the benefits of working with a knowledgeable and courteous distributor in your area as an added value to your purchase. Our distributors can educate you about our distillers, install your distiller and provide you with continual service throughout the life of your equipment. To find your local Pure Water Distributor contact us today!