Arsenic in Well Water and Tap Water
It is well established that high levels of arsenic in drinking water can lead to severe health problems long-term. Well owners must be extra vigilant as arsenic has no color, taste, or odor. Well water quality can vary from location to location, so it is essential to test well and not assume anything. Arsenic is found naturally in soil and rocks and dissolves into groundwater. In fact, groundwater is how most people are exposed to arsenic. This link between arsenic ingestion and health problems is well documented.
"Elevated levels of arsenic exposure in groundwater have significantly increased the risk of peripheral neuropathy, cardiovascular disease, myocardial infarction, stroke, chronic obstructive pulmonary disease (COPD), gout, lung cancer, and diabetes." (Source: National Institute of Health)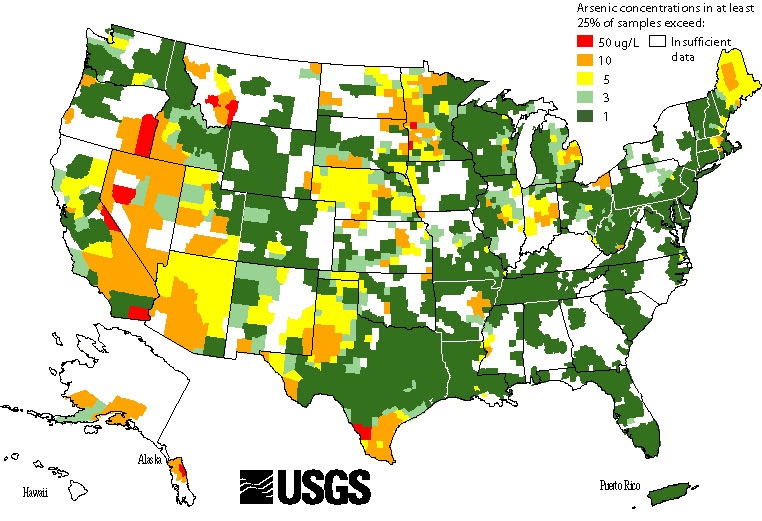 Arsenic Levels by State
The US has areas of high arsenic concentrations according to the map from the United States Geological Survey. Arsenic is widespread throughout the USA and certain regions in the western USA have levels higher than the EPA maximum allowable levels. A quick look at the map shows clearly that states like Maine, Nebraska, California, Minnesota, Nevada, Arizona, Utah, Oregon, Montana, Indiana, and Texas all have large areas with arsenic present. It is believed that 10% of wells and public water sources have higher levels of arsenic that are known to cause disease.
Arsenic in Water Symptoms
According to the EPA's website http://water.epa.gov/lawsregs/rulesregs/sdwa/arsenic/index.cfm "….non-cancer effects can include thickening and discoloration of the skin, stomach pain, nausea, vomiting; diarrhea; numbness in hands and feet; partial paralysis; and blindness. Arsenic has been linked to cancer of the bladder, lungs, skin, kidney, nasal passages, liver, and prostate."
Cancer
Stomach Pain
Nausea
Vomiting
Diarrhea
Numbness in hands and feet
Partial Paralysis
Blindness
Thickening and Discoloration of the Skin
What is a Safe Amount of Arsenic in Water?
In 2001 the EPA revisited the arsenic problem in the USA and revised downward the arsenic standard for drinking water to 0.01 parts per million (10 parts per billion) to protect consumers served by public water systems from the effects of long-term, chronic exposure to arsenic. Some municipalities are not in compliance with this standard. According to the USGS, it is believed that over 2 million well owners are drinking water with higher than recommended levels of arsenic!
How to Remove Arsenic from Water / How to Fix Arsenic in Well Water
A well-designed water distiller, such as a Pure Water brand distiller, will remove over 99+% of arsenic in drinking water. Pure Water started by helping well owners and has grown over the years to provide clean drinking water to people and businesses worldwide. Our verified 3rd party lab results show the power of distillation as a superior form of water purification. Not only do our water distillers remove contaminants like arsenic, but they also remove other unknown contaminants.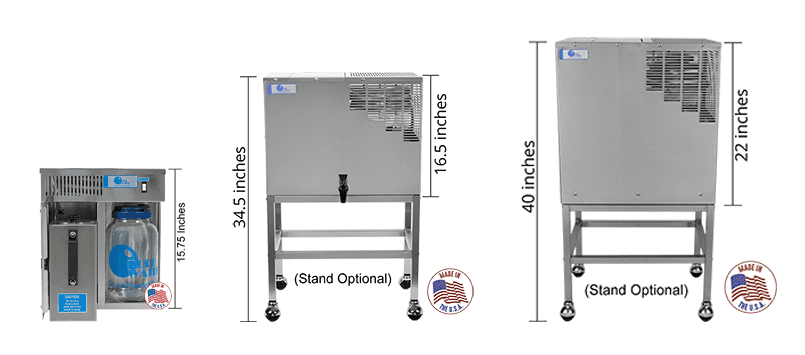 Arsenic Contamination in the News
Here are a few examples of arsenic contamination in the news. To learn more about arsenic contamination in your area, search Google, check your local municipal water service's annual report, or visit the EPA's website.
The EPA list — showing facilities from Arizona to New York — raises concerns about contamination of nearby waterways and drinking water supplies and provides a window into the agency's ongoing crackdown on coal ash, one of the largest sources of water contamination in the country. Coal ash contains contaminants like mercury, cadmium and cancer-causing arsenic.
For decades, residents of different mobile home parks in the area have been dealing with water contaminated with arsenic, which, in large amounts, is known to cause rashes, skin disorders or even coma or death. In the past six months alone, the EPA has cited seven parks in the east valley for having water that contains arsenic levels above federal legal limits — even from a faucet equipped with a filter — and thousands of times above state public health guidelines.
Knight and other researchers have also found a strong correlation between land subsidence due to overpumping and increased concentrations of toxic arsenic in drinking water.