Transcription of Video
Welcome to this product overview of our Mega Classic Automatic Water Distiller. This top-of-the-line Pure Water distiller will produce up to 12 gallons of distilled water in 24 hours, and there's a 10-gallon storage tank. The water will be boiled, and it will be cooled in our stainless steel cooling coil, and then deposited into a storage tank down here in the bottom of the distiller. The Mega Classic will automatically fill itself and it will automatically drain the boiling tank after it's filled the storage tank each time.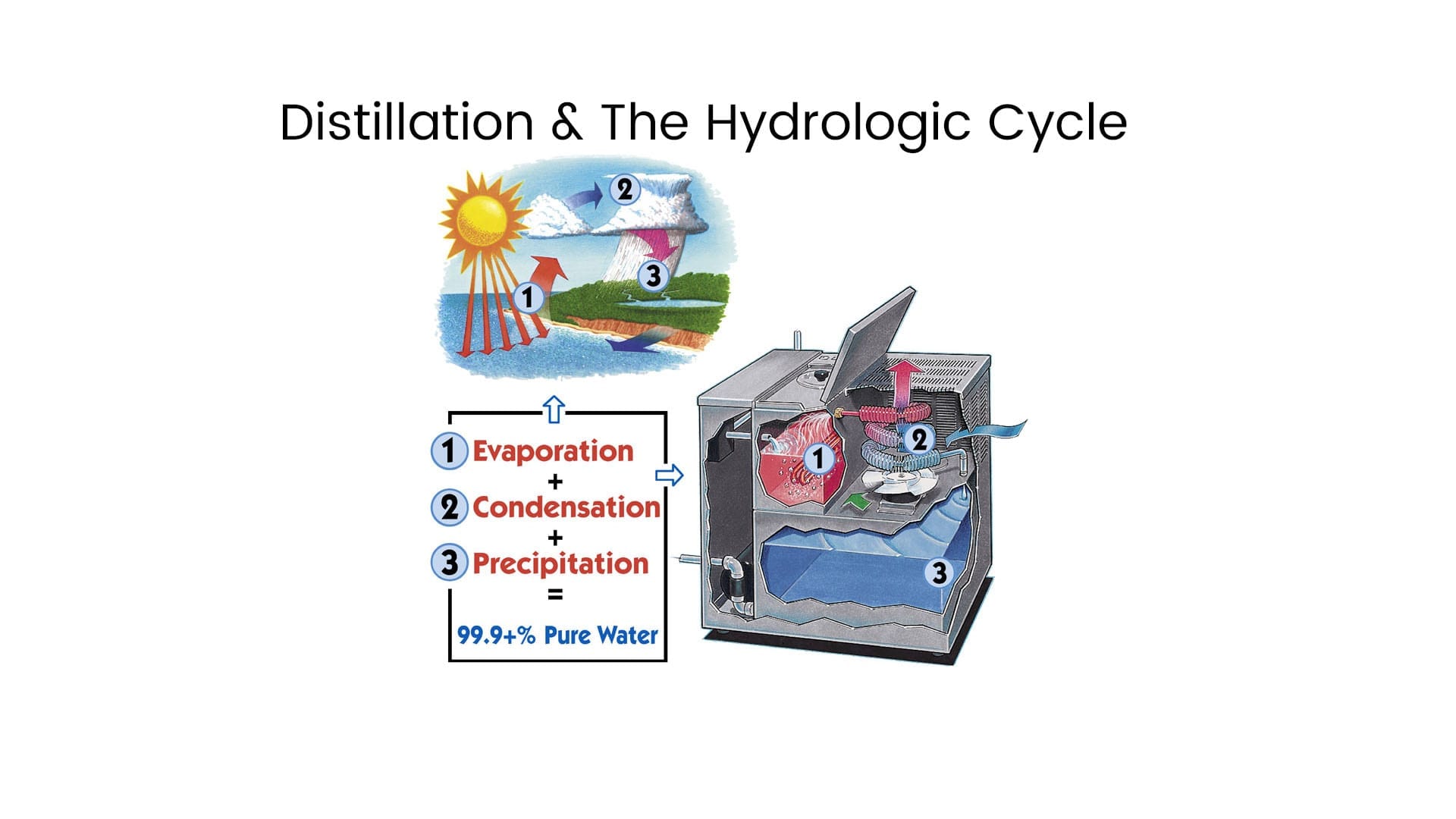 The Back Panel of the Mega Classic
Let's take a look at the back so I can show you the special features of this mega classic. You'll notice all of your access points to the mega classic on the back of the distiller. The first thing I'll draw your attention to is this blue area right here. This is going to be your distilled water out. As I said before, the Mega Classic comes with an internal pump. This is going to be where it pumps the water out to your external faucet to the sink or refrigerator dispenser.
The red one here is going to be your drain area and it will automatically drain the boiling tank after it's distilled enough water fill your storage tank. So your storage tank fills, then your boiling tank will automatically drain right out of here.
Right here is your raw water in. This water is coming from your water line right into the distiller to be boiled.
Then right here is your power outlet. This is going to be where you're going to attach your power cord to plug it in to power. This is your main power on/off switch right here.
That's where we have a thermal reset switch (pointing to hole on the upper back panel) if your boiling tank ever overheats and shut itself down. This is going to be reset by putting a pencil from the eraser side into the hole and there is a little red button inside that you'll press to release.
The Mega Classic will automatically shut itself down if it starts to leak internally. There's actually a basin inside the bottom of this distiller and if you tilt this up (a small white part on the bottom back panel) and the water will fill that basin and release a switch to shut the distiller down until the leak is fixed. When you want to drain the water out of that basin, turn this around (small white part on bottom back panel) and the water will drain right out. In order for that pressure switch to work, it needs to be tilted up.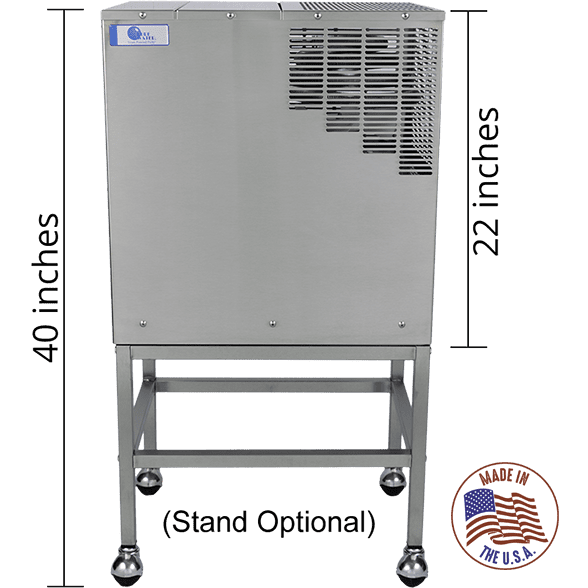 Access to the Boiling Tank
Now let's take a look at the inside top of the distiller to get a closer look. The Mega Classic gives you direct access to your boiling tank. Simply remove the top cover here and see that you have direct access to your boiling tank here. Simply unscrew it slide it off. Now you can get access to your heating element, your float ball, and when you need to clean your boiling tank. You'll also notice that it has an hour meter on it so the Mega Classic will inform you how long your distiller has been running.
Distill Water or Clean Functions
Then you have three switches here (near boiling tank). The first is a function switch between distill and clean. This is how you're going to draw water into your boiling tank. If it's on distill, once the boiling tank is full, it'll start heating up if it's on clean. If it is on clean, it won't start heating up, allowing you to fill it with your cleaning solution and let it soak for a few hours.
Distill Water or Sterilize Your Water Distiller Functions
Next we have your fan switch between distill and sterilize. Your fan switch is going to turn your fan on and off. This means when it's on distill, the fan will come on, cool the steam down into distilled water, and store it in the storage tank. If it's on sterilize, that means your fan will be off, and steam will run through your entire cooling coil to help sanitize it.
The Pump Switch
Finally we have your pump switch between auto and override. Auto means your pump will work normally but once there is only a little bit of water left in your storage tank the pump will automatically shut off and won't allow any more water to drain. The override allows you to continue pumping to drain your boiling your storage tank completely you notice that it's a momentary switch. You have to hold it down to pump the water out of the storage tank. The Mega Classic is designed to be running the pump up to a dispensary either a secondary faucet of the sink or a refrigerator dispenser.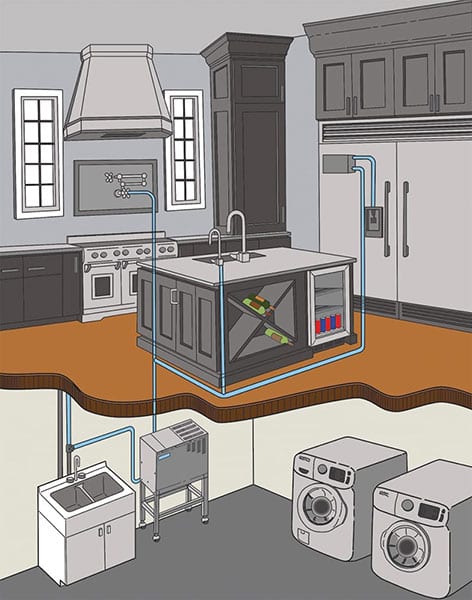 Storage Tank Drain, Stainless Steel Stand and Filters
Note that it has this spot right here with a storage tank drain, which also means that it's a good spot to get your distilled water from. There is a side note to this, you either cap it or put the drain on it, but the water inside the storage tank will not be run through a post filter. The post filter on the Mega Classic is on the distilled water line going from the pump to your faucet. So the water here will not be run through a post filter. If you need to get the water from your storage tank you'll want to run a pre-filter on your distiller to make sure it is run through at least a carbon filter for VOC removal. The Mega Classic also is on a stand so on roller casters, and stainless steel. This is a separate piece. It can actually be removed from this and sit on a shelf or anything else support the weight.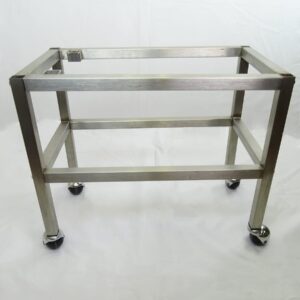 This is our Mega Classic, our top-of-the-line deluxe water distiller. If you are interested please give us a call at 1800-875-5915 with questions or to purchase a water distiller. Thank you for watching and have a great day!
---
Watercology Newsletter Sign-Up
[hubspot portal="23545771″ id="d26af347-595b-45ed-b9d7-241788009841″ type="form"]