Every now and then, we have a customer call in, worried because there is a reddish discoloration in the seams of their boiling tank. They think it's rust.
But have no fear: it's NOT rust and your distiller is perfectly safe. Here are the facts.
What causes a discoloration that looks like rust in my boiling tank?
For our water distillers, we pride ourselves on using high quality T-304 stainless steel, and we are so confident in the quality that we offer a 15-year warranty on the stainless steel components. When we weld this stainless steel, we do not use a buffer metal because we do not want to corrupt the purity of the metal or damage the integrity of the boiling tank. It's pure stainless steel.
304 stainless steel has a minimum of 18% chromium. (Note: this is not hexavalent chromium.) During the welding process, this chromium is drawn to the surface of the metal, creating the colors.
This reddish color isn't iron oxide; it's chromium oxide. And this chromium oxide patina actually further protects your boiling tank from rust.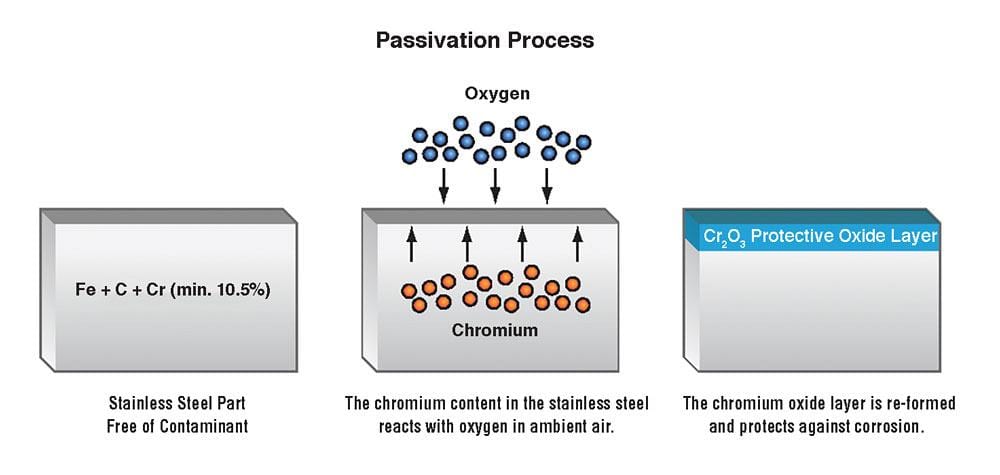 Does this discoloration affect my water?
No. Neither the water in the boiling tank or the distilled water will be affected by this discoloration.
How can we be sure? If it did, it would show up as dissolved solids on water conductivity tests, and countless tests have shown that no additional dissolved solids show up in the distilled water.
You can read more about our 3rd Party Lab Test Results here.
Why don't you remove the discoloration?
There are a few reasons we don't remove the discoloration. First, the layer of chromium oxide actually reduces the risk of rust. It forms a protective patina that makes the seams even safer.
Second, while we could use harsh chemicals to remove the discoloration, we don't want to risk our customers coming into contact with any residue, nor do we want to have to increase prices to cover the expense of the chemicals.
Is my boiling tank going to rust through or damage more easily?
No. In fact, just the opposite occurs. The chromium creates a protective patina that reduces the risk of rust.
---
Watercology Newsletter Sign-Up
[hubspot portal="23545771″ id="d26af347-595b-45ed-b9d7-241788009841″ type="form"]