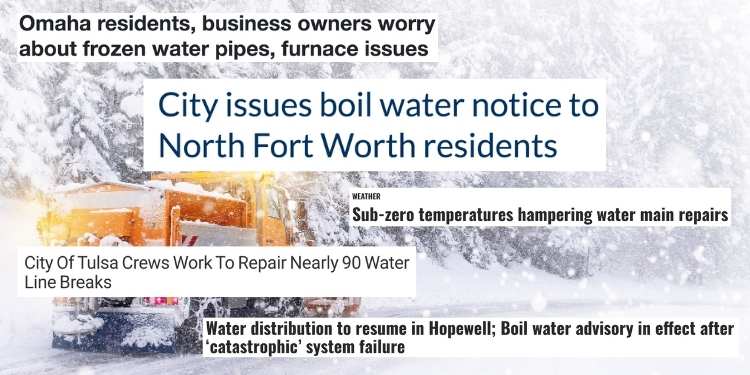 With severe winter weather rampaging across the United States, we're seeing unprecedented temperatures, snowfall, and wind chill. Electric utilities in the Midwest are using rolling blackouts to attempt to keep the grid from becoming overwhelmed. Boil alerts are being issued at an alarming rate as pipes freeze and burst across the nation.
We've never seen issues on this scale before in the United States.
But while we deal, yet again, with an unprecedented crisis, we want to remind you that all of us at Pure Water are here to help.
What should I do if I am in a Boil Alert area?
First, if you have a Pure Water distiller, you don't have to worry about boiling your water. Boiling is already the first step in the distillation process.
Second, if you do not have a Pure Water distiller and you are in a boil alert area, know that filtering and reverse osmosis are not enough. You need to take additional steps to stay safe.
The main reason boil alerts are issued are because biological contaminants (i.e. germs, viruses, parasites, etc) may have gotten into your water supply. The CDC recommends boiling the water to kill these biological pathogens.
According to the CDC, you should fill a large pot with water and bring it to a full, rolling boil for at least one minute; then let the water cool and store it in a clean container for use.
Read more about boiling water for a boil alert here.
Be aware that boiling the water only helps protect you from these biological contaminants. The process actually concentrates other kinds of contaminants, like heavy metals, that may have been stirred up in whatever catastrophe caused the boil alert.
Good news though: Pure Water distillers help protect you from these other contaminants too.
Also, if you do use filters or reverse osmosis membranes, you will need to replace them after the boil water advisory has passed.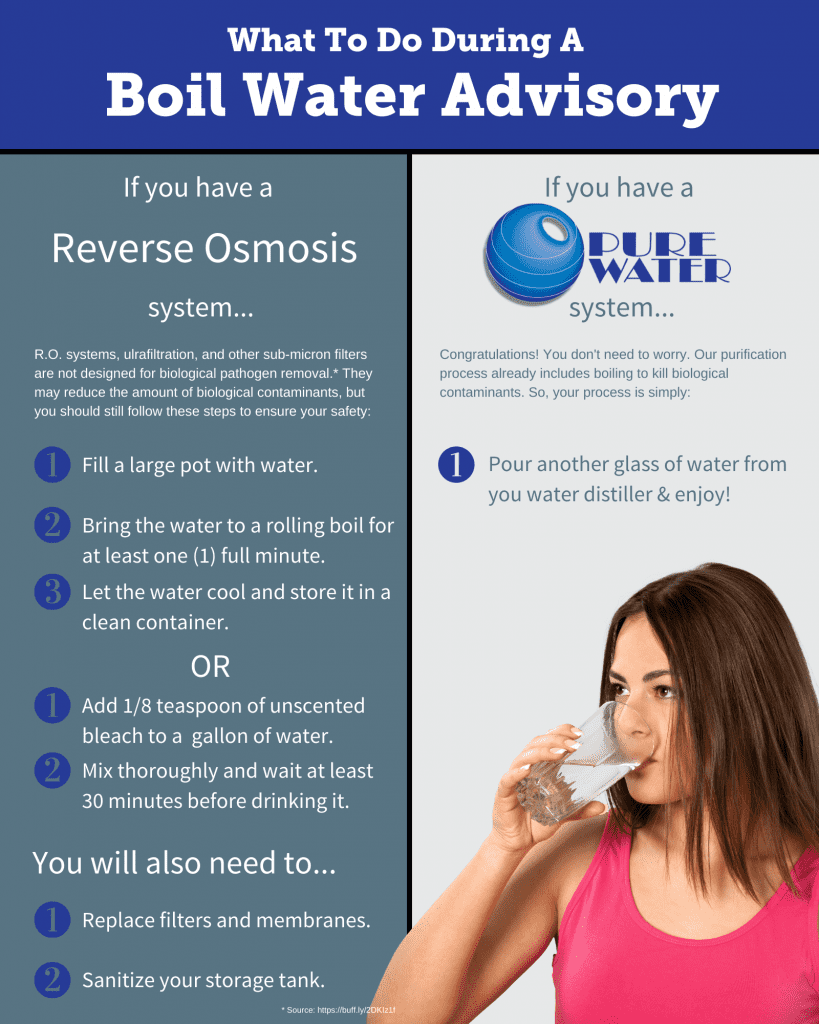 Will my water be affected if my power goes out?
Boil alerts are often issued after a water main breaks, but that's not the only time. It might surprise you to hear, but power outages can also affect the quality of your water.
"During a power outage, a water well system will lose pressure if faucets are opened. As a result, bacteria, viruses, and other disease-causing organisms can find their way into the water system. The water can become contaminated without any noticeable change in taste, odor, or clarity." (Source)
The CDC says that when power goes out, water purification systems may not be functioning fully, so they recommend watching for updates from your local utilities before using the water for any consumption uses or even cleaning dishes/baby bottles/etc (Source).
If you have an automatic Pure Water distiller, the water in your distiller's storage tank is still safe to consume. You've already got a built-in emergency supply!
And if you have a counter top Pure Water distiller, any batches you've already produced are safe to consume. Once the power comes back on, you'll be able to continue to produce more safe, distilled water.
What should I do if my pipes freeze?
Lots of plumbers, news stations, and government officials will tell you what to do to prevent your pipes from freezing. For example, the CDC recommends that you:
Leave all water taps slightly open so they drip continuously.
Keep the indoor temperature warm.
Improve the circulation of heated air near pipes. For example, open kitchen cabinet doors beneath the kitchen sink.
(Source)
But what do you do if your pipes have already frozen?
First, shut off the main water line leading into your home and open your faucets to relieve pressure. You'll reduce your risk of flooding if the pipes do burst.
Second, you can warm up the frozen pipe with a hair dryer. DO NOT USE AN OPEN FLAME. If the frozen pipe is hidden in the wall or too extreme for you, you can also contact a plumber with pipe-thawing equipment.
We highly recommend getting a licensed plumber out to inspect your pipes. (Source)
If there are any leaks in the line, the water in those pipes may have become contaminated. As discussed above, do not use this water without, at least, boiling it. For maximum protection, we – of course – recommend distillation.
Read more about why distillation is the best purification method here.
Or view our 3rd Party Test Results here.
If you have any questions, please contact us at info@MyPureWater.com or 1.800.875.5915. Thanks!
---
Watercology Newsletter Sign-Up
[hubspot portal="23545771″ id="d26af347-595b-45ed-b9d7-241788009841″ type="form"]