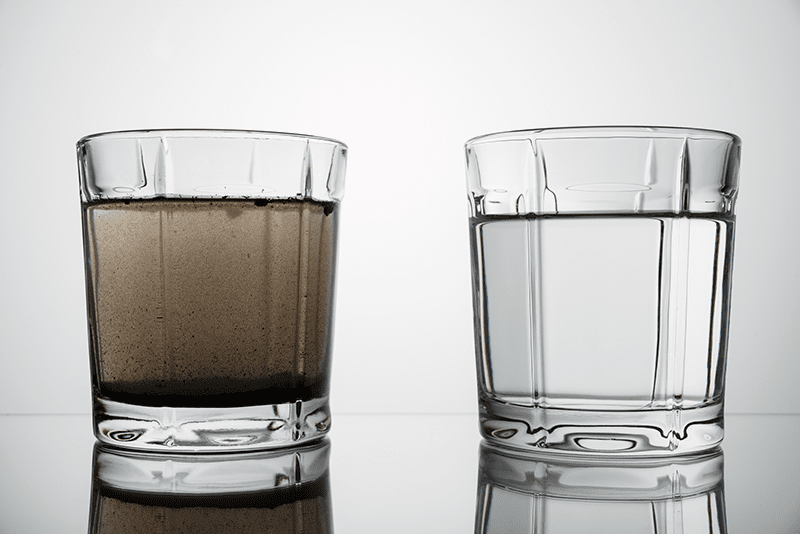 Water purification refers to the process of removing unwanted gases, solids, chemicals, viruses, or biological contaminants from water. Distillation is a form of water purification, and it is also the most effective as it removes over 99% of contaminants.
There are many water purification methods, many of which you already know. These methods include physical processes such as sand filters and distillation, chemical methods such as chlorine treatment, and even biological and electromagnetic methods.
Carbon filters, reverse osmosis systems, and water distillers are the most common home water purification systems. Many opt for simple carbon filters because they are generally inexpensive. Others purchase a reverse osmosis system, thinking they remove more contaminants or make the water taste better than a simple pitcher filter. Those who have researched find that water distillers remove much more than carbon filters alone or reverse osmosis. So, what is the difference between these water purification methods, and why is distillation the best?
Carbon Filters
Carbon filters are made up of carbon, usually derived from coconut shells or coal. These carbon sources are 'activated' using heat or chemicals to create giant pores in the carbon. These porous chunks of carbon are then placed into a filter chamber, and a binding agent is added to keep the carbon in place. As the water flows through the carbon filter, the pores created in the activation process absorb contaminants and make water suitable to drink.
Carbon filters can remove numerous contaminants such as phosphates, chlorine, pharmaceuticals, pesticides, and lithium, to name a few. However, carbon filters are only effective up to a certain point and are not effective at removing certain deadly compounds such as nitrates and arsenic, of which carbon filters can only reduce up to 70%.
Reverse-Osmosis (RO) Filters
To remove more tricky contaminants such as arsenic and nitrates, reverse osmosis or distillation is necessary. Reverse osmosis works by forcing the water through a membrane with pores even smaller than those involved in a carbon filter. These pores are so small, they are able to allow the hydrogen and oxygen molecules contained in the water (H2O) through the membrane without even the smallest ion contaminants, such as nitrates.
Reverse osmosis is effective at removing an even wider range of contaminants than carbon filters. However, the efficiency of reverse osmosis filters is largely dependent on the amount of contaminant contained in the water you are trying to filter and how often you replace the membranes. For example, if your water has 30 mg/L of nitrate, reverse osmosis would be able to reduce that to 3.5-2.5 mg/L. However, if your water contains 100 mg/L of nitrates, reverse osmosis would only be able to reduce the amount of nitrates to 15-10 mg/L. This means that while reverse osmosis is more effective than carbon filters at removing certain, more dangerous contaminants, it is only effective on some amounts of these contaminants. A water distillation system will remove 99%+ contaminants known and unknown contaminants from your tap or well water.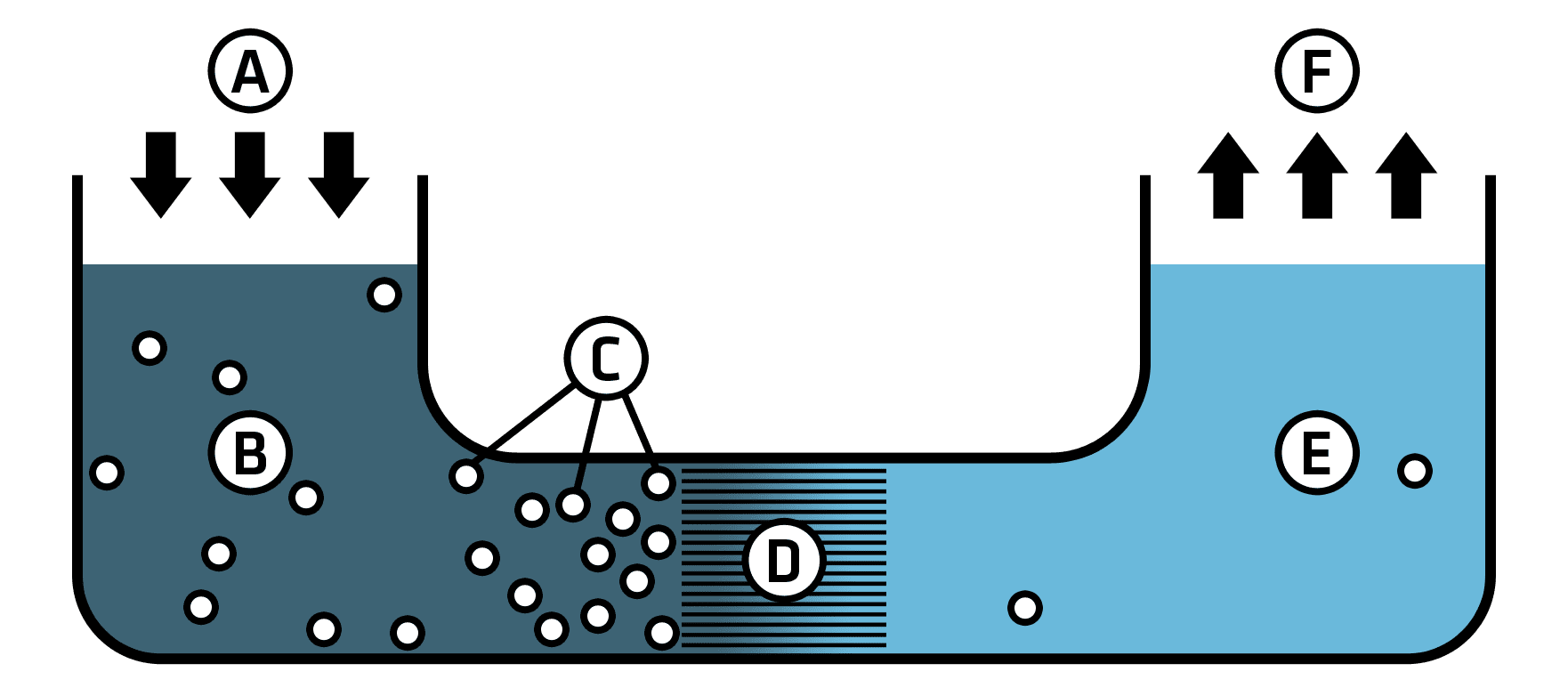 Picture source: https://commons.wikimedia.org/wiki/File:Simple_RO_schematic.png
A – Applied pressure
B – Seawater/Sourcewater in
C – Contaminants
D – Semi-permeable membrane
E – Potable water out
F – Distribution
Water Distillers
To remove nearly all contaminants in your water, you need a water distiller. A water distiller works by mirroring the Earth's natural hydrologic cycle, which is how the Earth creates rain through evaporation. First, heat from the sun evaporates water from the surface, bringing it into the atmosphere. Under colder temperatures, the water is condensed and eventually falls to the ground. A water distiller works the same way.

First, heat is applied to the boiling tank's source water until it becomes steam. This steam is then condensed and collected in a tank or jar for drinking. Because the water is boiled and only its steam is collected, virtually every contaminant contained in the source water is left in the boiling chamber. The result is 99% pure water! A water distiller can remove arsenic, nitrates, lithium, pesticides, fertilizer, pharmaceuticals, and nearly anything else you can think of, even uranium.
As shown in the video below, even if the water is dyed red, the water comes out perfectly clear.
What's the Best Drinking Water?
Although a water distiller is initially more expensive than a carbon filter, or a reverse osmosis system, it's the most effective at purifying drinking water. While distillation can remove over 99% of contaminants, carbon and reverse osmosis filters can only reduce some of contaminants in your water.
A water distiller is the best way to purify water. Pure Water Distillers come in manual fill countertop units and fully automatic units that you can connect to your refrigerator or kitchen sink. Pure Water distillers also have the industry's best warranty and last many years. Enjoy high-quality, refreshingly delicious water with a Pure Water Distiller.

---