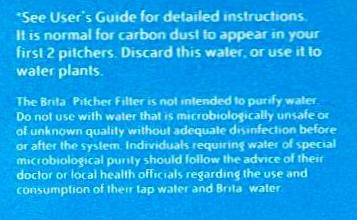 So you have a Brita filter. Good for you. That at least means that you've started to recognize that your tap water is less than ideal. But now as you learn more about the toxins that have been found in water you are starting to wonder, "Is the Brita filter good enough?", and "Is the Brita filter effective?".
Well, the answer depends upon what you want it to do. If you want better tasting water, the Brita is effective. If you want to best possible protection against toxins that could be in your water, the Brita is not the right choice. I would like to refer to the disclaimer that is printed on the Brita box…
"The Brita Pitcher Filter is not intended to purify water. Do not use with water that is microbiologically unsafe or of unknown quality without adequate disinfection before or after the system."
So what is your goal? I would suggest that your goal will be directly related to how much you have educated yourself on the real story of water contamination. If you know nothing about water contamination, you will be happy with tap water. If you have a little itch in the back of your brain about the quality of tap water, perhaps a Brita filter will be good enough. As you educate yourself more and more, you will progress to better filters, and then to reverse osmosis, and then you will end up fully appreciating a Pure Water Distiller. Or you could skip all of these steps, educate yourself in one hour by reading our past blogs and decide today that a Pure Water Distiller is the only solution that you should trust your family's health to.
Just as a final note: Yes, our premium water distillers DO purify the water and distillation is recognized as the single most effective process on microbiologically unsafe water!