The best water distillers are long-lasting, stainless steel, made in the USA, manual or automatic Pure Water® Distillers bar none. At Pure & Secure, makers of Pure Water Distillers, we are passionate about providing people with an easy and convenient way to get refreshing clean water. We are passionate about creating long-lasting products that won't end up in landfills within only a few years. We are passionate about helping people reduce their plastic waste and giving people the best tasting water on Earth!
Why the Best Water Distillers are Made with Stainless Steel
If you search online for water distillers, there are many options, and some are very cheap. You get what you pay for, as grandma says. Many cheap models are made mostly of plastic, which, when heated, is not safe like stainless steel. Plastic is also not as durable. Pure Water Distillers are made with stainless steel, so your machine will last for countless years. It's not going to end up being tossed away in just a few short years. Would you rather pay $200 for something that will only last for 2 or 3 years or pay $599 for something that will last for up to 30 or 40 years?
I'm a believer!
5.0 out of 5 stars A MUST HAVE FOR US! GREAT INVESTMENT!
Reviewed in the United States on January 16, 2017 Verified Purchase

My sister has had this machine for about 4 years now. She just had to order new guts for it (about $60) after making at least 3 gallons of distilled water every day, for all this time. That's a pretty good track record! It convinced me to purchase one for my husband and I. I figure that at $599…I will have my investment paid off within 6-7 months of making about 3 gallons of distilled water a day. If I bought 3 gallons a day, at a cost of .88 cents per gallon at Walmart, it would cost me $963.60 per year, but I would still be getting plastic contaminants in my water. All I can think of is what a great investment this machine is in the long run for our health, and the wear and tear of my machines that require it.
Why the Best Water Distillers are Long Lasting & Durable
No one likes to pay hundreds of dollars only to throw a product away. If you are going to invest in a water distiller, you will want one that will last for a very long time. Pure Water Distillers are sturdy because they are made of stainless steel. They last for decades because they have been carefully designed and tested. Did you know that we've been making water distillers for over 50 years? Some companies are not dedicated water distiller manufacturers, but we are because we are committed to providing clean water to all people all year round.
D'Nys
5.0 out of 5 stars Extremely worthwhile investment in our health & for our wallet! Excellent Quality Product!!
Reviewed in the United States on April 21, 2018 Verified Purchase

WE LOVE IT & CAN'T DO WITHOUT IT!! So simple & easy to use!! It has more than paid for itself already in the first six months we've had it & we have it going morning & night everyday without the slightest bit of problem!! I got a large 2 gallon glass jar with a spigot placed next to it & just keep it filled & then make more after the steel inner pitcher cools down!! It has saved us a lot of money in making multiple trips to the grocery store, carrying them in, having many extra big jugs sitting around, plus having to drink water from plastic jugs – who knows how long they've sitting on the shelves.. Highly recommend!!

Why the Best Water Distillers are Available in Manual and Automatic Models
One size does not fit all when it comes to water distillers. Some people start by thinking they want to buy a water distiller machine and think small due to cost. If you live in an apartment or are only one person, a manual fill distiller is great. If you have a home, prefer convenient distilled water on tap, and live with others, perhaps an automatic water distiller is the way to go. Pure Water® Distillers come in a variety of sizes to suit your living situation and needs. Feel free to call us at 1-800-875-5915 or email us at info@mypurewater.com for advice on the best size for your lifestyle.

Why the Best Water Distillers are Made in the USA
Pure Water distillers are made in the USA because we want to oversee and manage all production to ensure that our products are of the highest quality. We are a family run business, and we are active in our community. We hire locally and build our water distillers in Lincoln, Nebraska. If somewhere down the road your distiller needs a part or repair, we are here for you. You can switch out the part yourself by purchasing one on our website, or you can send your distiller into us for repair. Our products are not destined for the trash heap; they are valuable and easily fixable.
Lloyd Kahn
5.0 out of 5 stars Working perfectly for over 30 years
Reviewed in the United States on May 25, 2020

We have used this unit for more than 30 years, making about 3/4 gallon per day (about 9,000 gallons over this length of time). It's worked perfectly, the water is clean and tastes good. An outstanding product and it's made in the USA!

Why Our Distilled Water Is Better Than Bottled Water Or Tap Water
No one really knows what's in their tap water. That's probably the reason you are considering a water distiller. Health-conscious people know that distilled water is the best water to drink. So why buy a cheap plastic distiller that might leach chemicals into your distilled water? Our distillers never boil dry. Contaminants are left behind in the water to be drained or thrown out before the next distillation cycle.
Bottled water is, in some ways, worse than tap water. First of all, many bottled water manufacturers simply filter tap water and bottle it. You could filter it yourself with a pitcher filter. Bottled water has also been sitting in plastic containers until you drink it. You want healthy drinking water, right? Lastly, if you care about the environment, you would not want to add any plastic waste to landfills. We all know that we need to reduce our waste.
The Manual Mini Classic Water Distiller is Easy to Use and Own
The Mini Classic water distiller is the best manual water distiller on the market. It's easy to operate because you only need to fill the boiling tank, screw on the lid, push it back into the unit and press the ON switch. Because it is manual, it can move with you from dorm room to apartment, home, vacation home, or RV. Never get left without a clean source of water—no need to worry about frequent boil alerts. Cleaning is a breeze. Use our Lumen water distiller cleaner every month to keep your boiling tank free of buildup and scale. The Mini Classic makes it easy to enjoy the cleanest, most refreshing water on Earth.
Conclusion
The best water distillers are Pure Water Distillers. Our water distillers are perfect for those concerned about unwanted contaminants like arsenic, lead, bacteria, and viruses. They are also ideal for those who like water that tastes, looks, and smells pure. Anyone concerned about their return on investment can rest easy. Pure Water Distillers will last for decades and pay for themselves in about 6 months for our manual fill table top water distiller and about 2 years for our top-of-the-line Mega Classic automatic water distiller.
---
Looking for an Excellent Indoor Air Purifier?
The AiraNui Deluxe is a high-quality indoor air purifier that also has adjustable ozone control, UV protection, and a washable HEPA filter.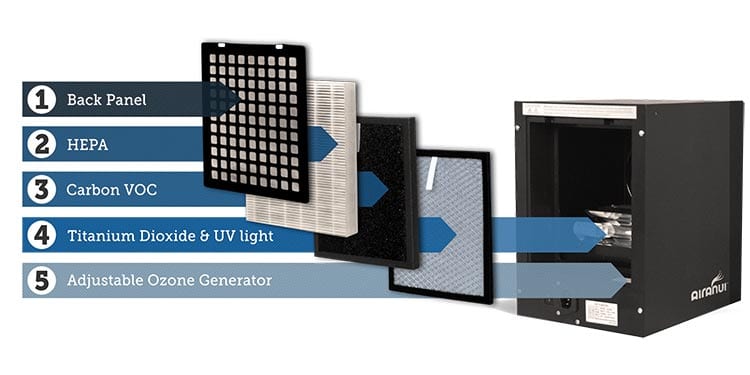 ---
Watercology Newsletter Sign-Up
[hubspot portal="23545771″ id="d26af347-595b-45ed-b9d7-241788009841″ type="form"]