Description
Produces Up To 12 Gallons Per Day / 10 Gallon Storage Tank
If you desire the ultimate in convenience and faster production in an electric water distiller, the Mega Classic Automatic Water Distiller is perfect for you! The Mega Water Distiller produces up to 12 gallons of distilled water per day and is equipped with a large 10 gallon storage tank. It has a built-in demand pump to deliver pure water right to your sink and refrigerator or has a manual distilled water outlet for dispensing water directly from the storage tank. Maintenance is minimal with the Mega Classic's self flushing feature.  This unit is the perfect home water distiller as it produces and stores the right amount of water for medium to large sized families.  It is also an option for smaller offices or as a well water purification systems.  If you need assistance choosing the right distiller for your needs, please feel free to call us at 1-800-875-5915 or email us at info@mypurewater.com.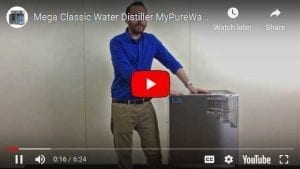 Stainless Steel, Made in the U.S.A. & Automatic
The Mega Classic Automatic Water Distiller is constructed of top-quality stainless steel to provide years of dependable service with little care. It is fan-cooled and has a unique float design to stop automatically when the storage tank is full. It has a safety shut-off switch which turns the unit off should it ever overheat. Each Pure Water distiller is complete with twin vents to allow volatile gases to escape. Additionally, a carbon post filter is included to aid in the removal of any organic or inorganic gas carryover and to improve taste.
Distilled Water Uses
Mega Classic  Automatic Water Distiller Features
The Mega Water Distiller will automatically flush and drain the contaminants from the boiling chamber when the storage tank is full. This maintenance reducing feature requires that this unit be installed near a drain. For installations that cannot accommodate a drain, the unit can be switched to manual drain mode with a push of a button.
The Mega Classic also has a built-in demand pump to deliver the distilled water to an auxiliary faucet and/or to a refrigerator or ice-maker. You can also add an optional faucet to dispense distilled water directly from the storage tank.
Pure Water has an optional stainless steel floor stand available for easy installation of your Mega Classic in your basement or utility room.
Product Specifications
item#: 36999
width: 22" (56 cm)
depth: 16" (41 cm)
height: 22" (56 cm)
Shipping weight: 72 lbs. (33 kg)
Machine weight: 61 lbs. (28 kg)
Current draw (120V): 13.5 amps
Current draw (240V): 6.75 amps
Total Wattage: 1600
Max. distilling capacity: 12 gallons (45 liters) per day
Storage capacity: 10 gallons (38 l)
Demand pump: 1.4 gallons (5.3 liters) per minute
Ambient temperature: 50½-90½F
Operating pressure: 30-100 PSI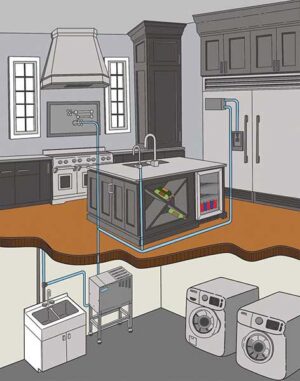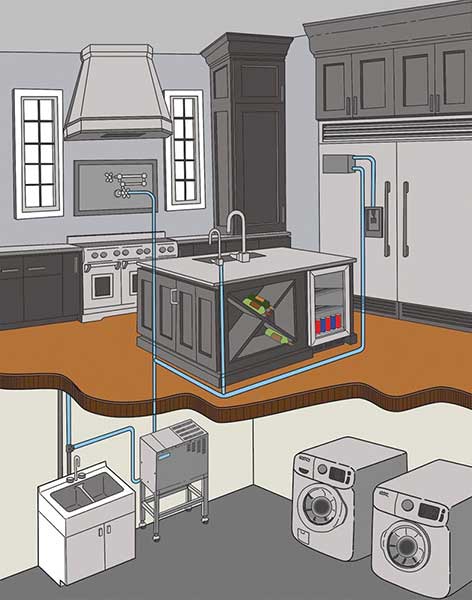 Steam Distillation & The Hydrologic Cycle
Just as Mother Nature takes ocean water and makes pure, rainwater, a Pure Water automatic water distiller duplicates the Hydrologic Cycle inside this appliance.
Regular tap water or softened water is received into the boiling tank.
A heating element boils the contaminated water and the steam rises.
The steam passes into the condensing coil, and the impurities are left behind.
A fan cools the steam and it becomes pure, distilled water.
A stainless steel storage tank holds up to ten gallons of distilled drinking water.
A demand pump delivers the distilled water to a remote faucet, refrigerator and/or icemaker.
Get superior water purification through distillation and drink the best drinking water on the planet!
Don't forget to keep your distiller clean with Lumen water distiller cleaner.