While tap or well water may seem like a convenient choice, using distilled water for irons and steamers offers numerous advantages that can prolong appliance life and enhance the performance of these essential products. Distilled water should be the top choice when it comes to ironing or steaming your garments.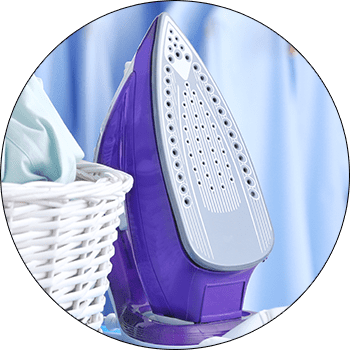 Distilled Water Removes Minerals That Clog Your Iron
Tap water and well water contains various minerals such as calcium, magnesium, and iron, which can lead to the accumulation of mineral deposits in your iron or steamer over time. These deposits, commonly known as limescale, can clog the steam vents and affect the appliance's functionality. By using distilled water, which is free from these minerals, you eliminate the risk of limescale buildup and ensure consistent steam output.
Distilled Water Prevents Staining and Discoloration
Minerals present in tap or well water can also cause unsightly stains and discoloration on your clothes. When you use a steam iron or steamer, these minerals can be transferred onto the fabric, leaving behind unwanted marks. Distilled water prevents such stains, ensuring that your clothes remain in pristine condition even after repeated use of these appliances.
Using Distilled Water Extends Appliance Lifespan
The accumulation of mineral deposits not only affects the performance of your iron or steamer but can also lead to irreversible damage. Limescale buildup can cause blockages in the heating elements, leading to decreased heat transfer and increased energy consumption. Using distilled water prevents these issues, resulting in a longer lifespan for your appliance and fewer costly repairs or replacements.
Distilled Water Enhances Steam Quality
The quality of steam produced by your iron or steamer plays a crucial role in achieving optimal results. Distilled water ensures a purer steam output by eliminating impurities found in tap or well water. This clean steam helps in removing wrinkles more efficiently and provides a smooth finish to your garments. It also reduces the chances of particles or minerals getting caught in the steam vents and causing damage.
Using Distilled Water Improves Performance
When you use distilled water, you enhance the overall performance of your iron or steamer. The absence of minerals means there are no obstructions to impede the flow of steam. Consequently, you can enjoy a consistent and powerful steam output, making your ironing or steaming tasks faster and more effective. Your clothes will have a crisp, professional look with minimal effort.
Using Distilled Water Avoids Unpleasant Odors
Tap water often contains chlorine and other chemicals that can emit unpleasant odors when heated. These odors can be transferred to your clothes during the ironing or steaming process, leaving them with a lingering smell. By using distilled water, you eliminate the risk of these odors, ensuring your clothes smell fresh and clean.
While it may be tempting to use tap or well water for your iron or steamer, the long-term benefits of using distilled water cannot be overstated. Switching to distilled water prevents limescale buildup, stains, and discoloration on your clothes. Moreover, you extend the lifespan of your appliance, improve its performance, and eliminate unpleasant odors. So, the next time you reach for your iron or steamer, remember the power of distilled water and let it transform your ironing experience.
Impurities in Tap and Well Water
Your water quality can change daily.  Both tap and well water contain impurities at various levels.  Many people find that their water smells differently after it rains a lot or if there's a drought.  Well owners may be concerned about odors like a rotten egg smell that comes from decay and chemical reactions.  There may even be bacteria present.  Well owners may be concerned about discoloration coming from iron in the water.  Whatever might be present in your water might clog your iron or make it spit crusty bits onto your clothes.  Save yourself the time and trouble of rewashing a garment by using distilled water in your iron.

Pure Water You Can Trust
When it comes to the advantages of using distilled water, the benefits are so significant that owning a distiller becomes a worthwhile investment. Read about some of the uses of distilled water.  At Pure Water Distillers, we offer a range of options to cater to different needs and preferences. Our distillers come in two main categories: small countertop models and automatic water distillers.
For those who require a larger supply of distilled water, our automatic water distillers are the ideal choice. These efficient machines can produce several gallons of high-quality distilled water daily and conveniently store it for easy access. If you own a home or have a family consisting of two or more people, we highly recommend considering an automatic water distiller for your needs.
On the other hand, if you have a smaller household or require smaller amounts of distilled water, our portable countertop water distillers offer a practical solution. These compact units can sit on your countertop, producing nearly one gallon of distilled water per batch. They are especially well-suited for apartment dwellers or those who have limited space.
At Pure Water Distillers, we take pride in our high-quality distillation systems, and we manufacture them right here in the USA. We understand that choosing the right water distiller can be a daunting task, and we are here to assist you every step of the way. If you have any questions or need further information about our distillation systems, our dedicated team is ready to help. Please feel free to reach out to us at 1-800-875-5915 or email us at info@mypurewater.com. 
Investing in a water distiller offers countless benefits. By using distilled water, you eliminate impurities that may be present in water. Distilled water is free from unwanted minerals, chemicals, and contaminants, making it the perfect choice for drinking, cooking, and various household uses.
Choosing to incorporate distilled water into your daily life brings a multitude of advantages. Whether you opt for our automatic water distillers for larger quantities or our portable countertop models for smaller households, Pure Water Distillers has the perfect solution for you. Contact us today to explore our range of distillation systems and experience the benefits of pure, distilled water firsthand.
If you enjoyed this blog, take a look at some of our other related articles:
---