In March of 2020, Harry was panicking. He needed distilled water daily to use in a medical device, but with the COVID-19 pandemic ramping up, the shelves at the store were starting to look bare. To deal with the demand, the grocery store had even put a one gallon per day limit on all customers.
Thankfully, Harry was one of thousands who found Pure Water home distillation systems, giving him control over his distilled water supply.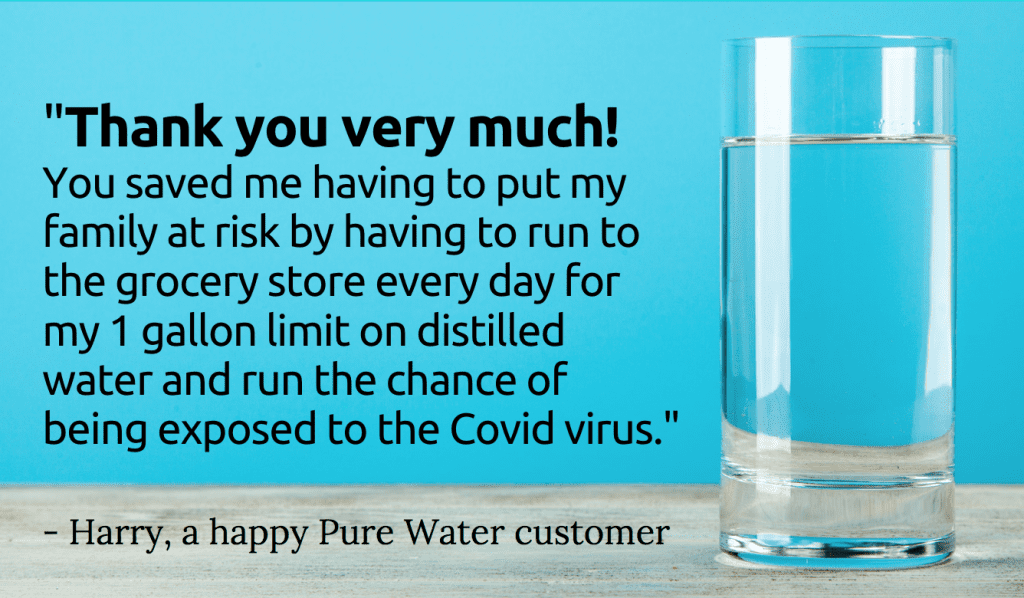 "Thank you very much!" wrote Harry after receiving his Mini Classic CT water distiller. "You saved me having to put my family at risk by having to run to the grocery store every day for my 1-gallon limit on distilled water and run the chance of being exposed to the Covid virus."
Even with the pandemic dying down, distilled water is needed now more than ever. Are you offering distillers to your customers?
3 reasons why Pure Water distillation systems should be included in your product line
The pandemic has especially highlighted the need for consumers to focus on their health, and we've seen this reflected in increased demand for home water purification systems. The WQA recently released a consumer opinion survey that confirms this. Sales across the industry have been on the rise!
But are you offering all the types of water purification systems that consumers are looking for?
When some people think of distilled water, they think of filling irons or batteries. But many people have been drinking distilled water for the health benefits for decades, and a growing population is discovering the versatility and benefits of this purification method. Don't miss out on the rising demand for home distillation systems!

Here's why you should choose Pure Water distillers for your product line.
1. Pure Water distillation systems help you consistently offer the Best Water.
When you work in the water industry, you hear a lot about Good, Better, and Best water. For example, U.S. tap water is some of the safest tap water in the world. It's often labeled as good. Meanwhile, filters and R.O. give your customers better water. But what's the best water your customer can get in their home without breaking the bank?
At Pure & Secure, LLC, we believe that improving the quality of water improves the quality of life. We believe in a zero-toxin level for drinking water – and through a combination of distillation and activated carbon filtration, our systems produce water that is consistently over 99.9% contaminant free!
As you know, reverse osmosis membranes and filters wear down over time, slowly becoming less effective. Salts and resins get depleted. But distillation is unique. Because it uses a phase change instead of a barrier, it gives consistent baseline results that can then be enhanced using filters.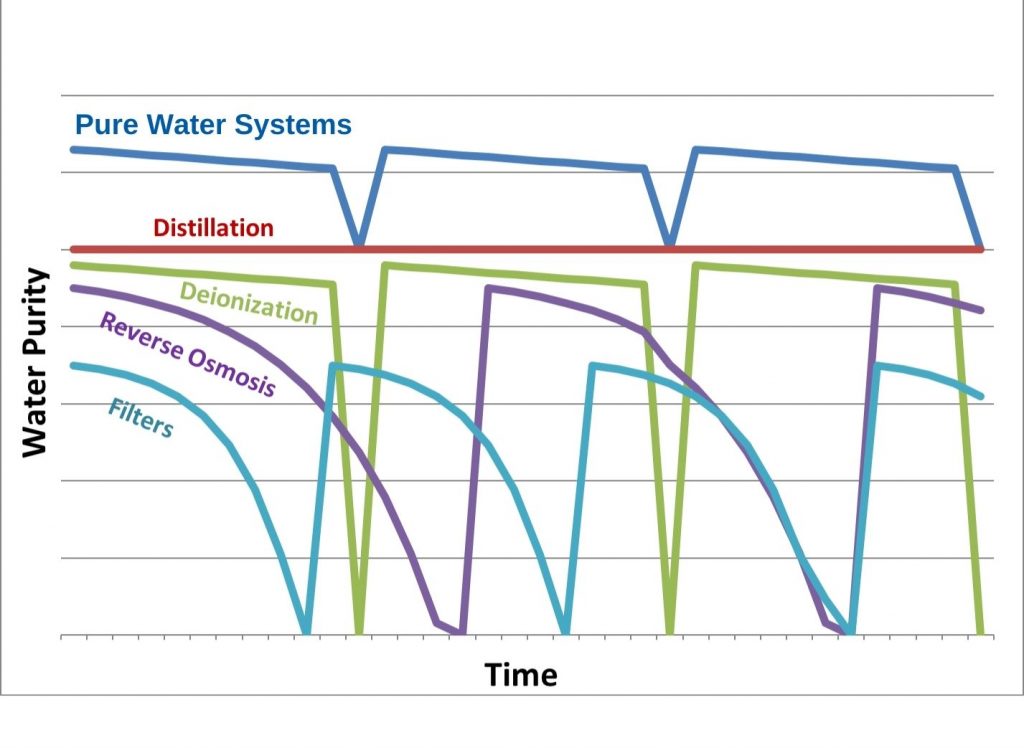 Pure Water systems have been proven to be effective at removing an extremely broad range of contaminants – biological, radioactive, organic, and inorganic alike. View our 3rd party lab results here.
Because of the consistency of distillation and the high degree of purity from our Pure Water systems, we're confident that our systems will help you give your customers the best water for their needs.
2. Pure Water distillation systems are durable and long-lasting.
When you install a water system, you want to know that it's going to work and that you won't have to make constant repairs. That's where Pure & Secure's dedication to quality and durability come in handy.
First, all of our water distillers are handcrafted in Lincoln, Nebraska, USA, and we proudly use a majority USA-sourced components. Even our stainless steel is made in the USA.
After they are built, every single unit goes through a rigorous quality control test before they leave our facility.
And we have a proven track record. Our service center regularly sees Pure Water distillers that are 30-40 years old that have been sent in to be cleaned up. They go out of here looking brand new, and some will surely last decades more.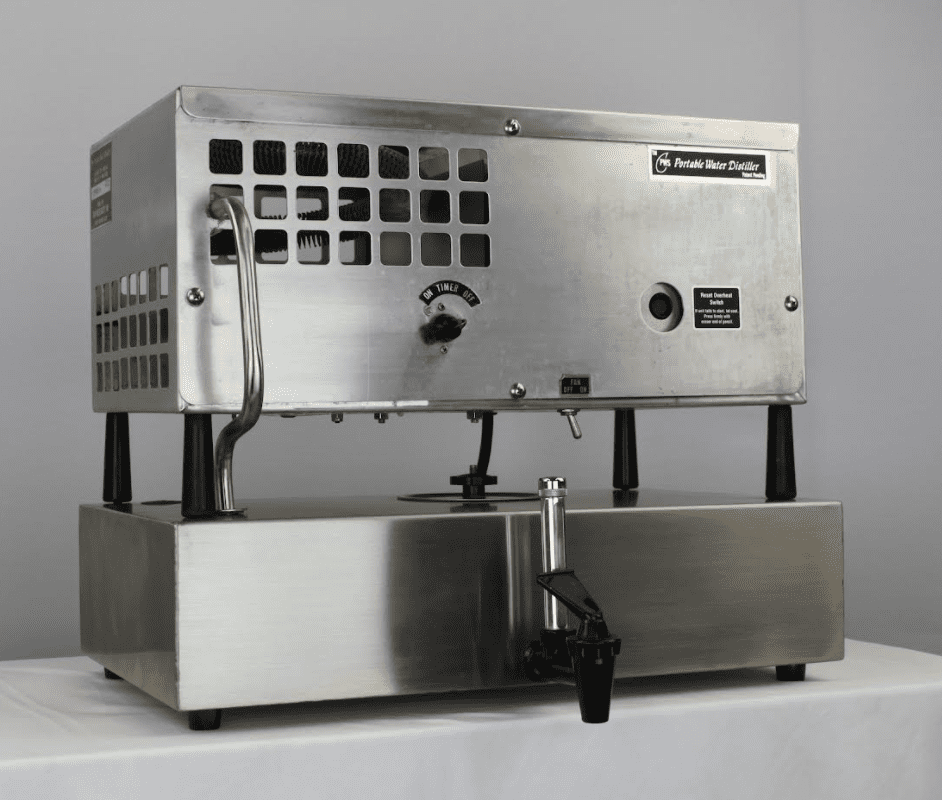 We have hundreds of thousands of customers around the world – including over 100 U.S. Embassies – who rely on our systems for consistent protection. They trust us because we have a history of reliability.
Read more about our company history here.
3. Pure Water offers a no-hassle dropship program.
We work hard to make it easy for you to sell and ship the products to your customers. That's why we've recently revamped our wholesale program into a dropship program.
Some of the benefits of dropshipping include:
Low overhead – One of the biggest advantages to drop shipping is that you can sell without having to deal with purchasing inventory or managing a warehouse. Due to this, your overhead costs are quite low.
Less capital is required – Investing thousands of dollars in inventory up front or retaining an annual status each year is no longer a requirement. With the drop ship program, you don't have to purchase until you've already made the sale and have been paid by your customer. While no longer requiring to stock inventory, you no longer need to worry about the distiller's warranty expiring. We will ship directly to your customer.
Easy to get started – No longer managing physical products means not having to worry about:

Paying and managing a warehouse
Packing and shipping your orders
Tracking inventory
Little to no insurance costs
Managing stock levels
Handling returned items
Selling online – With little to no inventory requirements, this program allows you to spend more time managing your ecommerce store by listing prices online. This means you can reach a wider audience.
All of this together makes it easy to add Pure Water Distillation Systems to your product offerings without having to make a huge investment right now.
Ready to get started?
If you have any questions or if you're ready to get started, please email us at info@MyPureWater.com. We will then send you a short application to complete. Thanks!