Description
The PWS-5600 laboratory water distiller that can be configured to meet different grades of water purity. The PWS-5600 is self-contained, heavy duty equipment that includes a water distiller, storage tank, leak detection controls, delivery pump, and a lockable door. Its rugged design and automatic drain mean long-life with very little maintenance.  Pure water distillation equipment is trusted the world over.
Specifications for the PWS-5600 Laboratory Water Distiller
Automatic operation with built-in pump
Heavy duty construction
Low maintenance with automatic contaminant draining
Purity sensor and alarm
Meets ISO and ASTM standards
Made in the U.S.A.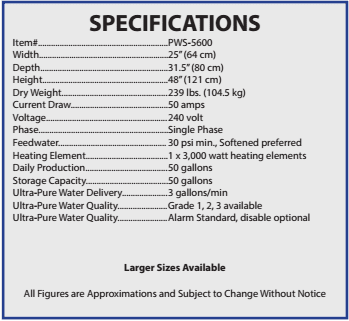 | | |
| --- | --- |
| Item# | PWS-5600 |
| Width | 25″ (64 cm) |
| Depth | 31.5″ (80 cm) |
| Height | 48″ (121 cm) |
| Dry Weight239 |  239 lbs. (104.5 kg) |
| Current Draw | 50 amps |
| Voltage | 240 volt |
| Phase | Single Phase |
| Feedwater | 30 psi min, Softened Preferred |
| Heating Elements | 1 x 3,000 watt heating elements |
| Daily Production | 50 gallons |
| Storage Capacity | 50 gallons |
| Ultra-Pure Water Delivery | 3 gallons/min |
| Ultra-Pure Water Quality | Grade 1, 2, 3 available |
| Ultra-Pure Water Quality | Alarm Standard, disable optional |
Larger Sizes Available
All Figures are Approximations and Subject to Change Without Notice