You Deserve To Breathe Easy
Did you know that approximately 25 million Americans have asthma? Protecting yourself from poor air quality is a must. Take control of your indoor air quality with the AiraNui Indoor Air Purifier with Ozone Generator. The AiraNui can help you reduce smoke, odors, pet dander, and allergens with a fantastic multi-stage filtration system including a HEPA filter.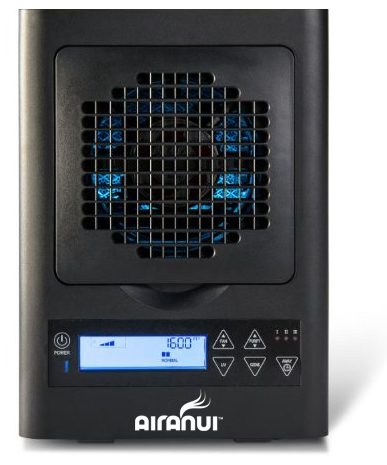 Eliminate Harmful Pollutants and Allergens
The AiraNui is designed to help you breathe easy.
Remove odors caused by tobacco smoke, pets, cooking, mildew and bathroom use.
Traps and eliminates sub-micron particles down to 0.01 micron.
Removes pet dander.
Ionizes dust, pollen and other air particles.
Purifies air in your living space.
Eliminate airborne allergens and breath clean, purified air. Indoor air pollution is a real problem – but the AiraNui Deluxe indoor air purifier is the answer!
The Easy Way to Clean Your Home's Air
The AiraNui Indoor Air Purifier with the built-in Ozone Generator is the easiest way to disinfect your home's air. The AiraNui uses advanced PCO technology to combine a UV-C germicidal bulb with a Titanium Dioxide filter to vaporize mold, mildew, bacteria, viruses and germs in the air flowing through it. It also remove odors with the Ozone generator by eliminating bacteria, viruses, mold and mildew on multiple surfaces around the home. UV light an Ozone have been shown work well together to reduce and kill numerous types of bacteria and viruses.
NOTE: do not run the Ozone generator around people or pets. The Ozone generator has a timer to allow you to control when it runs.
Multi-Stage Air Purification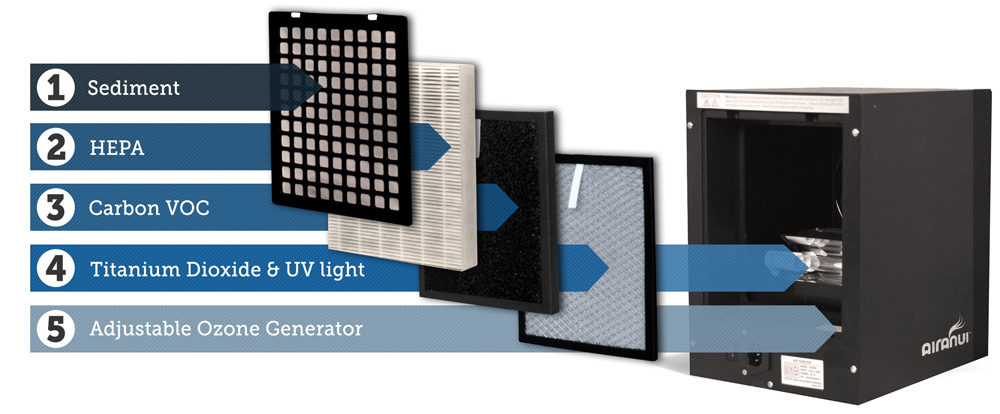 | | | |
| --- | --- | --- |
| Stage | Filter | Function |
| 1. | Back Panel | The back panel screen catches large particles. |
| 2. | HEPA Filter | The HEPA filter collects airborne microbes as small as 0.01 micron, including mold spores, dust mites, pet dander and particulates that produce allergies and other respiratory problems. Our HEPA filter should be cleaned monthly and replaced annually. |
| 3. | Carbon VOC Filter | The EPA reports that volatile organic compounds are emitted as gases from thousands of products in your home, such as paints, cleaners and furniture. Volatile Organic Compounds (VOCs) historically are found in higher concentrations indoors. They can have short-term and long-term adverse effects on humans and pets. Our Carbon VOC Filter deodorizes and absorbs impurities that irritate the eyes, nose and throat. |
| 4. | Titanium Dioxide & UV Light Filter | Ultra-violet light is a bacteriastat. It destroys micro-organisms. UV light filters are used widely in hospitals and medical clinics for sterilization. Our UV light filter is combined with a Titanium Dioxide Filter, producing super-charged ions to clean the air of mold, pollen, germs and bacteria. It converts pollutants to harmless water vapor, while leaving your home smelling fresh and clean. |
| 5. | Adjustable Ozone Generator | AiraNui has a built-in ozone generator, which is independently adjustable with a front-panel knob. Our ozone generator eliminates odors from tobacco smoke, cooking and pets. It eliminates bacteria, viruses, mold and mildew on multiple surfaces around the home. Ozone is naturally produced by ultra-violet rays from the sun and lightning-based corona discharges. These two methods account for nearly all natural ozone creation on Earth. We've incorporated Mother Nature in our air purifier to provide fresh, pollution-free air. |
Why Wait?
Order yours today, and start breathing easy with AiraNui!
---
Watercology Newsletter Sign-Up
[hubspot portal="23545771″ id="d26af347-595b-45ed-b9d7-241788009841″ type="form"]