Happy Earth Day from all of us at Pure & Secure, makers of the Pure Water and AquaNui brands! If you're already a customer of ours, you've already taken action to be kinder to our environment – reducing the amount of plastic bottles that are used, minimizing water waste, and more.
Check out these 5 Reasons Why Pure Water Distillers are Good for the Environment.
But you may not realize all the ways your water distiller can help you minimize your carbon footprint! This Earth Day, we want to celebrate by giving you three sustainable, ecofriendly practices that you can implement in your daily life.
1. Rehydrate Foods, Juices, Toothpaste and More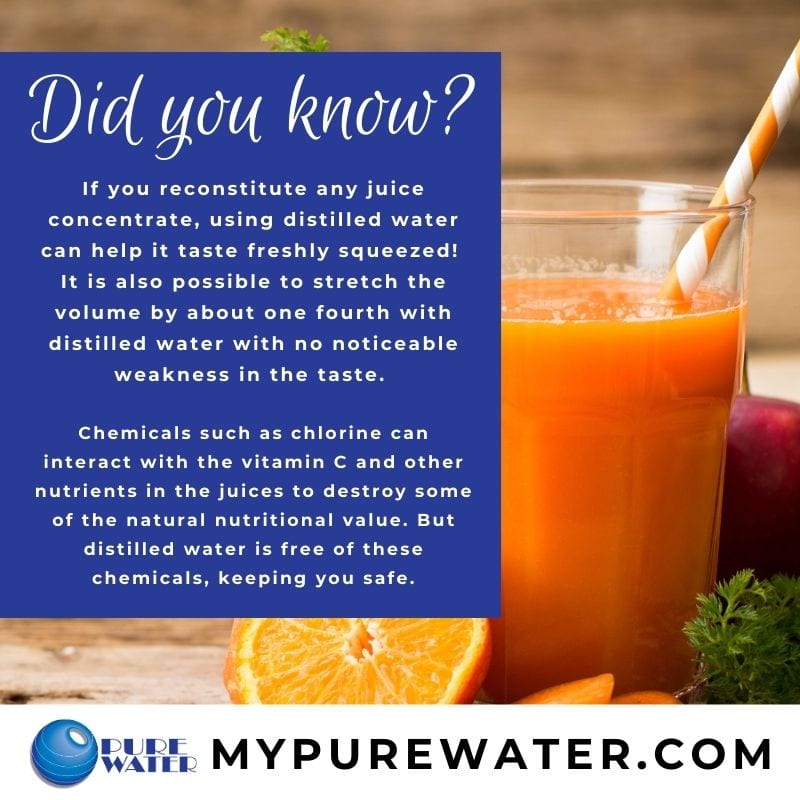 Reducing your packaging waste gets easier every day. More and more companies are offering dehydrated products – juices, beans, fruits, even toothpaste and mouthwash! And when you're rehydrating anything, you want to use distilled water.
For instance, if you reconstitute any juice concentrate, using distilled water can help it taste freshly squeezed! It is also possible to stretch the volume by about one fourth with distilled water with no noticeable weakness in the taste.
It's important to know that chemicals such as chlorine can interact with the vitamin C and other nutrients in the juices to destroy some of the natural nutritional value. But water from your Pure Water distiller is virtually free of these chemicals, keeping you safe.
Anything you're consuming should be as free from synthetic chemicals as possible. Distilled water helps with that.
Check out our 3rd Party Lab Results to see chemicals that our distillers remove.
Bonus tip: Is your fresh produce is starting to look a little limp? You can also reduce your food waste by crisping up food with distilled water.
2. Grow Your Own Food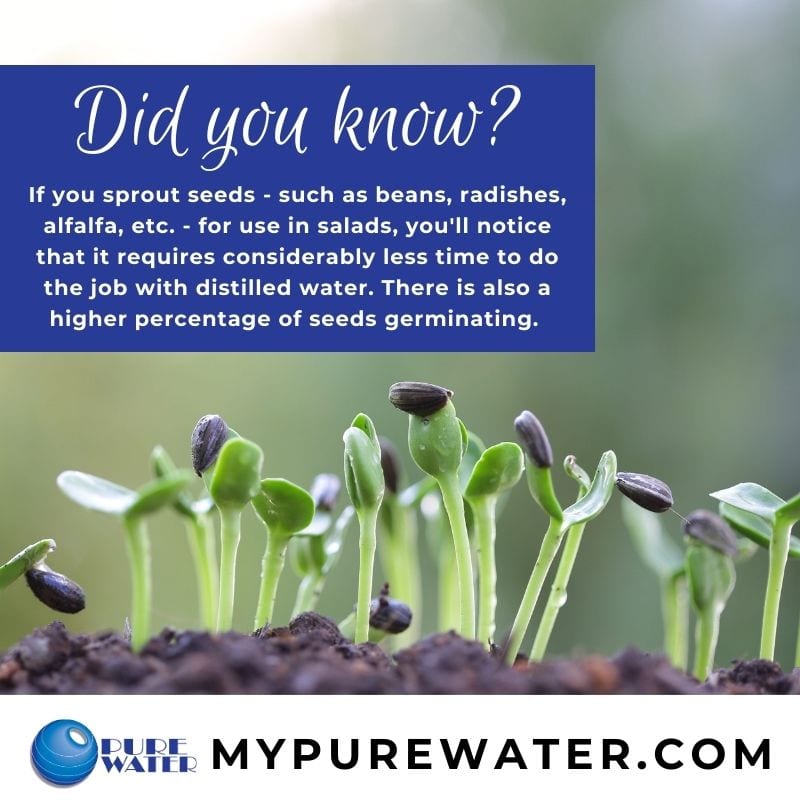 Eating locally-grown, sustainable produce reduces the carbon footprint of transporting food. And what's more locally grown than growing food yourself?
Sprouts and microgreens are an easy way to get started. They don't take up much room or skill, so almost anyone can grow them. Some companies even offer basic kits to get you started.
You don't want to sprout seeds with tap water though. Common disinfectants found in tap water, like chlorine, can be toxic to plants.
Read more about distilled water for plants.
Because of this, when it comes to sprouting seeds, you'll notice they sprout faster with distilled water. There's also a higher percentage of seeds germinating.
3. Clean with Distilled Water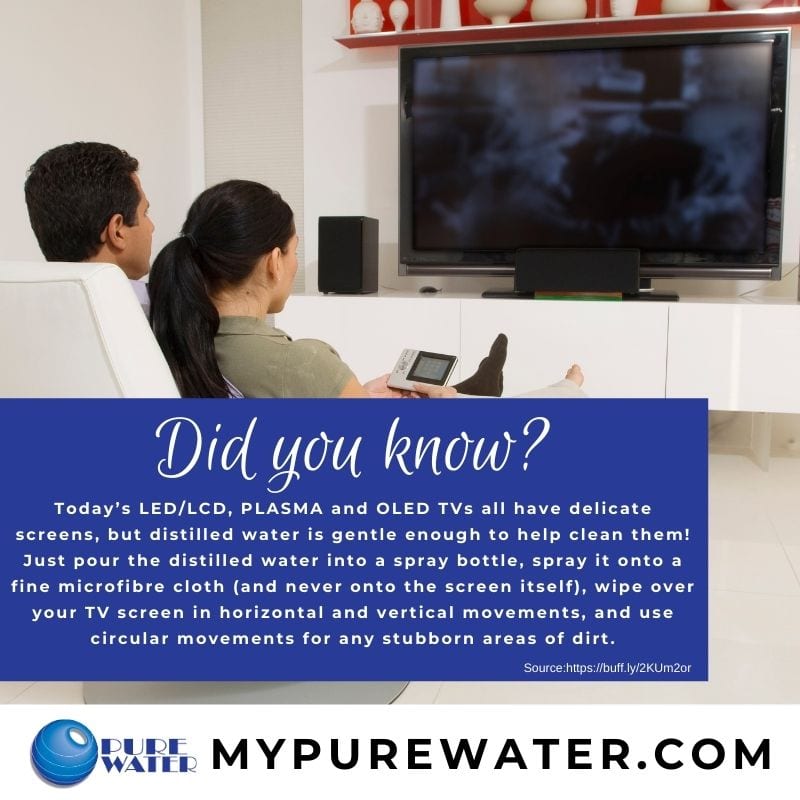 Did you know? Distilled water is great for cleaning! Because it is so pure, it doesn't leave behind spots. (Fun fact: even the military uses high purity water for cleaning things like stealth fighter jets because they don't want any residue left behind.)
Distilled water can be used on its own with a cleaning cloth with amazing results. For example, today's LED/LCD, PLASMA and OLED TVs all have delicate screens, but distilled water is gentle enough to help clean them! Just pour the distilled water into a spray bottle, spray it onto a fine microfiber cloth (and never onto the screen itself), wipe over your TV screen in horizontal and vertical movements, and use circular movements for any stubborn areas of dirt. No harsh chemicals needed!
However, if you do want to use a cleaning chemical but you want to reduce packaging waste, you can also buy concentrated cleaners and dilute them using distilled water. The power of the cleaning products won't be diminished by contaminants, like it would be if you used tap water.
Your Pure Water Home Water Distiller Makes It Easy To Be Ecofriendly!
All together, the convenience of a Pure Water home water distiller makes it easy to be ecofriendly! Distilled water is so versatile, and when you make it at home, you don't create plastic waste or burn gas driving to and from the store.
If you're already a Pure Water customer, try out the tips above and let us know what you think!
If you're not a Pure Water customer yet, please check out our home water distillers:
Let us know if you have any questions! We're here to help. Just email Info@MyPureWater.com or call 1.800.875.5915. Thanks!
---
Watercology Newsletter Sign-Up
[hubspot portal="23545771″ id="d26af347-595b-45ed-b9d7-241788009841″ type="form"]