Description
The Mega Classic Water Distiller gives you the ultimate in convenience and fast production in an electric water distiller! The Mega Classic home water distiller produces up to twelve (12) gallons of distilled water per day and is equipped with a large ten (10)-gallon storage tank. It has a built-in demand pump to conveniently deliver pure water to an auxiliary faucet at your sink (great for washing produce or filling pots) and you can also connect to your fridge (for dispensing chilled water and making pure, clear ice cubes. In case the power goes out, you can also dispense water directly from the storage tank.
Maintenance is minimal with the Mega Classic's self flushing feature!  This system is the perfect home water distiller as it produces and stores the right amount of water for medium to large sized families.  It is also an option for smaller offices or as a well water purification systems.  If you need assistance choosing the right distiller for your needs, please feel free to call us at 1-800-875-5915 or email us at info@mypurewater.com.
The Mega Classic Automatic Water Distiller is constructed of top-quality stainless steel to provide years of dependable service with little care. It is fan-cooled and has a float system designed to stop automatically when the storage tank is full. It has a safety shut-off switch which turns the unit off should it ever overheat, and it also has a built-in safety shut-off if it detects a leak. Each Pure Water distiller is complete with twin vents to allow volatile gases to escape. Additionally, a carbon post filter is included to aid in the removal of any organic or inorganic gas carryover and to improve taste.  Pure water distillation equipment is made in the USA.
The Mega Water Distiller will automatically flush and drain the contaminants from the boiling chamber when the storage tank is full. This maintenance reducing feature requires that this unit be installed near a drain. For installations that cannot accommodate a drain, the unit can be switched to manual drain mode with a push of a button.
Key Benefits of the Mega Classic Automatic Water Distiller:
Can produce approximately 12 gallons of water per day
Built-in 10-gallon stainless steel storage tank
Built-in pump to allow for networked system
Automatic drain flushes out contaminants, reducing the frequency of cleaning
Safety shut offs to protect the system from overheating or leaking
Patented dual purity vents to allow Volatile Organic Compounds (VOC's) to escape
Remove the widest range of waterborne contaminants (View 3rd Party Lab Results)
Made from T-304 Grade Stainless Steel so it's Long Lasting & Durable
Longest Warranty in the Industry
Green Alternative to Plastic Bottles and No Need for Water Delivery
Proudly made in the USA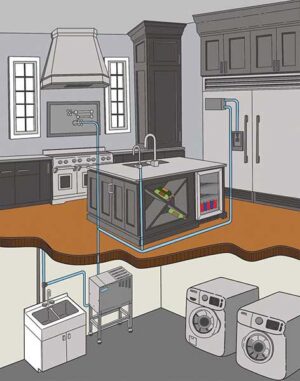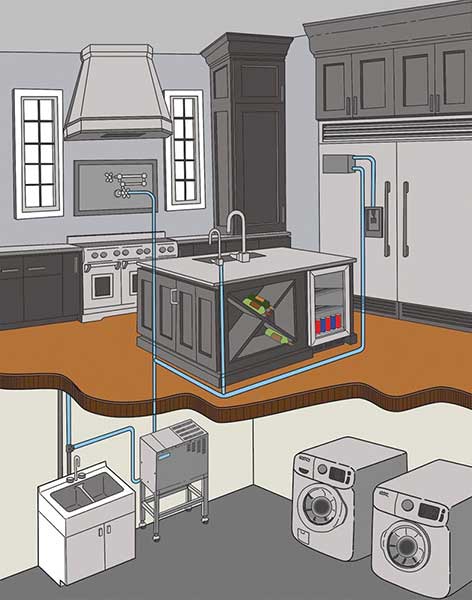 Option for Automatic Water Distiller Installation
What's Included:
The Mega Classic Water Distiller
An activated carbon post filter to absorb any possible VOC and to enhance taste
A saddle-tapping valve (to connect the unit to a water line) – May not comply with regulations in certain areas. Please contact us for other hookup options.
25 feet of food-grade silicone tubing
An 8-inch extended reach faucet
You can also add an optional spigot to dispense distilled water directly from the storage tank.
Optional Add-ons:
Pure Water has an optional stainless steel floor stand available for easy installation of your Mega Classic in your basement, laundry, or utility room.
Want to hook your Mega up to your ice maker? Make sure you get the ice maker kit with a pressure tank.
Purchase extra glass jars for water so you can store them in your refrigerator for emergency purposes.
Don't forget to keep your distiller clean with Lumen water distiller cleaner!
Purchase extra filters so that you're prepared when it's time to swap them out.
Keep a spare heating element on hand.
Product Specifications
item#: 36999
width: 22" (56 cm)
depth: 16" (41 cm)
height: 22" (56 cm)
height with stand: 40″ (102 cm)
Shipping weight: 72 lbs. (33 kg)
Machine weight: 61 lbs. (28 kg)
Current draw (120V): 13.5 amps
Total Wattage: 1600
Max. distilling capacity: 12 gallons (45 liters) per day
Storage capacity: 10 gallons (38 l)
Demand pump: 1.4 gallons (5.3 liters) per minute
Ambient temperature: 50½-90½F
Operating pressure: 30-100 PSI
Do you live outside of the United States? Please call 1-402-467-9300 or email info@MyPureWater.com to order 220V or 240V Water Distillers
Current draw (240V): 6.75 amps
Placement
The Mega Classic Water Distiller should be placed at least 24 inches off the ground, and it is best placed near a floor drain (so that it can automatically flush the system).
The Mega Classic must be placed near a water line.
The Mega Classic can be placed on a countertop or a stand where there is at least 3 inches of clearance above and around the machine. This is needed for ventilation.
DO NOT run the Mega Classic water distiller in a small enclosed space, like a cupboard or under the sink.
Maintenance:
Distilled Water Uses
Curious about what you can use distilled water for other than drinking water? Try using it for Cooking & Baking, Ice Cubes, Baby Formula, Coffee & Tea, Drinking Water for Dogs & Cats, Humidifiers, CPAP Machines,  Irons, Humidors, Plants & Seeds, Washing Your Face and Hair, or Filling Batteries.