Description
The Mega-25 distillation system is the ultimate model for production size and convenience. The Mega 25 plumbs into your waterline and automatically produces up to 12 gallons of pure distilled water a day to fill its 25-gallon stainless-steel storage tank. The Mega-25 has a built-in demand pump and can be installed in a mechanical room. It will deliver pure water to additional points of use. This model also has an automatic drain system, meaning once the storage tank is full of distilled water, the contaminants in the boiling tank will automatically drain out. The Mega 25 is a maintenance saver as it rids the boiling tank of pollutants that can cause scale buildup inside the tank. The Mega-25 also has an automatic leak detector. If the distiller senses a leak, the internal sensor will automatically shut the Mega 25 down until it has been fixed. This unit comes with a 1-year commercial warranty.
99.9% Pure Distilled Water
Produces Up to 12 Gallons Daily
25 Gallon Built In Storage Tank
Built-in Pump
Transports Water to Sink / Icemaker
Ideal for Large Homes or Offices
T-304 Grade Stainless Steel
Automatic Drain to Reduce Maintenance
Commercial Warranty
Safety Shut Off Valve
Green Alternative to Plastic Bottles
No Need for Water Delivery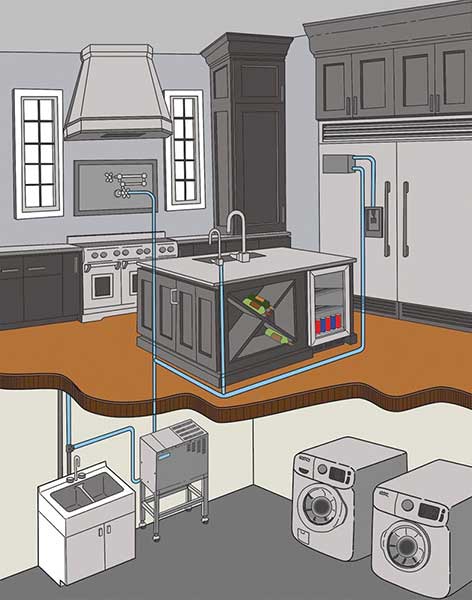 Typical Home Installation
Brochure
Accessories
An icemaker kit, and a variety of designer faucets work seamlessly with your Mega 25.  Filters and pre-softeners and are also available.
Specifications
item # 39999
width 22" (56 cm)
depth 16" (41 cm)
height 38" (97 cm)
machine weight 100 lbs. (45.3 kg)
current draw (120V) 13.5 amps
current draw (240V) 6.75 amps
total wattage 1,600 watts
maximum daily capacity 12 gallons (45 L)
storage capacity approx. 25 gallons